I use a variation of the traditional "color card" system in my room. The traditional system uses green, yellow, and red cards to indicate student behavior. I have a fourth card, purple, in my system for children to work towards.
How it works:
Each day all of my children start on green. If a child is misbehaving, I move his card to yellow or red. I save red for major offenses or repeated offenses. If a child is behaving very well, I change his card to purple. Often if I see a child misbehaving, I look for a child who IS behaving and change that child to purple rather than changing the misbehaving child to yellow. Most children "straighten up" when you change a classmate to purple in hopes that they too can have purple. I change many more children to purple than yellow or red. This makes the system more of a positive reinforcement system than a negative or punitive system (like the traditional system is).
Please note: Overusing the yellow or red in this system reduces the effectiveness. If a child does get yellow or red, he can still redeem himself and return to green. In the same
Consequences:
I try to make the consequences directly relate to the misbehavior and I make sure that children understand this relationship. For that reason, I don't have specific consequences that match misbehaviors or that correspond to the colors on my chart. I often offer choices regarding consequences to give the child some control (rather than engaging in a power struggle). For example: if a child does not complete his work during a lesson--due to "fooling around" or refusing to do it--I will offer him the choice of completing it at recess or center time. I am not punishing him; sitting out to complete the work is a natural consequence of not doing it in class. Another example: if a child is disrupting the class, I will offer him the choice of putting his head down at his table or sitting in our quiet chair (time out chair).
At the end of the day, children who are on purple get a small treat (pencil, eraser, tattoo, etc), children on green get a sticker or stamp, yellow gets nothing, and red gets a note or phone call home.
You can make a color card behavior chart by gluing (or using sticky-back) library pockets to a poster board. Then laminate the entire chart and use a razor blade to slit the pockets open. You can also use commercially made pocket charts--see picture at the top for an example (www.lakeshorelearning.com).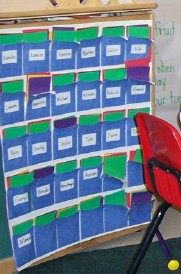 This is my teacher-made chart. It worked fine but only survived one year.
This system works very well for most of my children. For those who need something "extra", I use an individual behavior chart.