1
Farm--Fall Harvest
ABC Center:

Rhyming Pumpkins: Students find pumpkins with rhyming pictures.
ABC Center:

ABC Apples: Students place apples in ABC order.
Math:

Pumpkin # Sequence: Students put pumpkins in order. I provide three sets (1-10, 11-20, and 21-30).
Math:

Apple Counting Books: Students use crayons to write the numbers and number words on each page of this book. You can use clip art, stickers, or a stamp to make the apples. Be sure to laminate the books so that the crayon will wipe off with a tissue.
Writing: Scarecrow Colors (from Mailbox)
Art:

TLC style Scarecrow: Students trace and cut each part of the scarecrow and assemble. They can add yarn for hay and fabric scraps for patches. I also give them wiggly eyes to use.
Art:

Tissue Paper Apples: Students trace and cut an apple shape out of white paper. Then they rip pieces of colored tissue paper and glue to the apple shape. They can add a brown pipe cleaner for a stem and a "puffy" green pipe cleaner for a leaf.
The Farm Concert
Farm Concert "fill in" book
Art: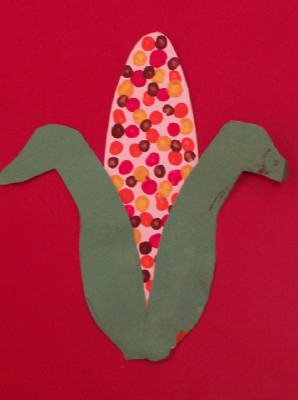 Indian Corn: provide students with a template of a corn shape and husk. Students trace and cut one ear of corn. Using Q-tips, they paint "kernels" on their ear. Next they trace and cut 2 husks out of green paper and glue them onto their corn.
Writing: Stamp same beginning sound
ABC:

Letter Bottles: Fill two empty soda bottles with a filler (confetti, sand, etc) and some letters (I wrote mine on foam shaped stars). Students search bottle and color the letters that they find on the recording sheet.
Letter Bottle 1 Letter Bottle 2
Math: Fall Harvest Numbers/Sets (see Math Center Activities)
Science: What's Heavier?--Apple (See Science Center Activities)