Weekly Graph
As part of Every Day Counts Calendar Math, we do a weekly graph. After scrambling to get the graphs ready in the past, I created a set of graphing questions and corresponding picture cards for most weeks of the year. The graphs are mostly theme or season-related.
To make my graph reusable every week, I laminated the graph and then attached velcro (prickly side) to each square. I cut a square out of poly binder (the floppy kind) for each child and attached velcro (soft side) to the back of these squares. I used a tiny label to put each child's name on the BACK of the square. This cuts down on children choosing an option just because a buddy chose it. Each day during the week, I choose 4 or 5 students to answer the graphing question and we add their squares to the graph. On Friday, we have a completed graph and can interpret the results.
Download Weekly Graphing Questions/Pictures
After using the weekly questions above, Jackie Oliphant, use the format to create more questions that she has generously shared. You may need to change a few as she personalized them for her classroom.
I've had lots of questions regarding the set up of this graph. Unfortunately we are out of school for the summer and I don't have a good picture of it. Basically it looks something like this:
Tape the daily/weekly question here.

8
7
6
5
4
3
2
1
<![if !vml]>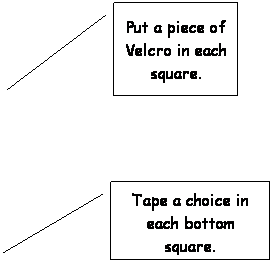 <![endif]>